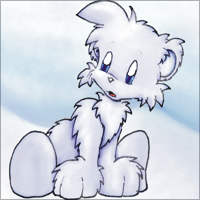 Frozen Lands
(by
Tobias
,
Jan 24, 2004
)
Yaaay, a north pole character .. I wanted to draw a mainly-white, and well, here it is. I'd say it's a wee polar bear, hence I tried to make it look like it has quite a bit of fur.hehe, it even has blue eyes, dunno, I somehow thought it was fitting the setting and the character.
Resize it?
If you want to resize the avatar (some sites, for example deviantArt, require your avatar to be 50x50 pixels in size and a GIF), you can either use the downsized avatar below *points* or resize it by yourself with - for example -
IrfanView
(use the Image / Resize/Resample function and then, when you save the file, select GIF in the file type dropdown box), which does its job very well.
Want to use this as an avatar in forums or similar? Sure, go ahead, I would feel honoured, but make you read the "Terms of Use" on the bottom of the "adoptables"-section. Thanks =n.n=
Posting Restricted
Posting on this contribution is available for a closed user group only.
~ Copyright &copy Tobias F. ~
No parts of this website may be used without expressed written permission.